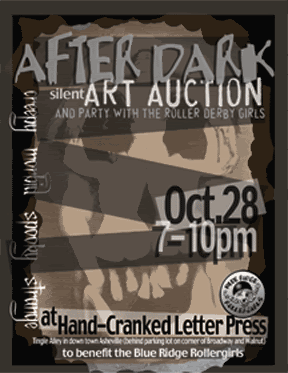 Tonight!
Art Auction to support a good local group!
Many local artists have donated AMAZING pieces.
I myself have donated 3 limited edition prints of my own work (on display downtown at Hookah Joe's) - two of them 1/100 prints and the other a 2/100 print.
Come on down to Tingle Alley (behind the parking lot at the corner of Walnut and Broadway) and get yourself a great find!
Then stay and party into the dark with a great Halloween theme and DJ Spookey - plus all the Roller Derby girls are HHHOOOOTTTTT. I promise ;-)
See you there!